Why change his brake lines?

After a few years, the rubber hoses can suffer the ravages of time and then appear cracks, cuts due to potential shocks because they are not protected, and micro leaks crimps.
Cracks on hose origin

PTFE brakeline hose is better?
Yes, our brakeline hoses have a PTFE tube surrounded by a metal braid covered by a transparent protection or not according to the models. Banjos are stainless steel and crimped to the machine in a specialized plant. The materials used are those of the greatest braking marks.
What should I do to pick my hose?
It is very simple. First, choose the color of your hose. This may be equal to the original or based on your fascia, your upholstery, your wheels and your mood. For banjos is the same. The shape of the banjo will automatically be that of the origin. Finally, select the characteristics of your motorcycle without forgetting the position of the hose, front, rear or both.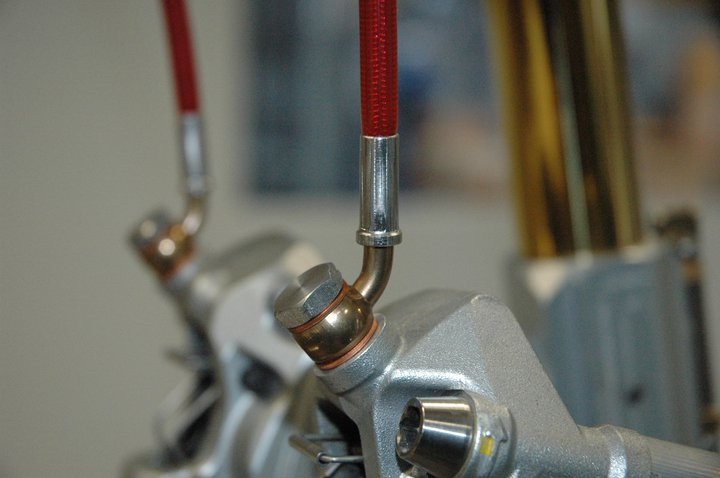 What are the possible choices for layout?

In the vast majority of the standard fitting is the only choice and corresponds to the original mounting. For some bikes, the choice is open and we can supply kits for racing or mixed mounting (see diagram). The racing mounting avoids intermediate connections for a more responsive brake, the joint assembly passes above the fender.

How is calculated your kit?

Our choice of module is connected to a database of all the features referenced motorcycles. For model you indicate your choice and front, rear or front + rear, we check the number of hoses under the brand to give you the exact price of your complete kit.
Your bike is not equipped with banjos!
And yes this also happens, some brands are refractory to banjos (BMW, ...), we can hear you deliver your avia hose with the hose to the color of your choice. For connections, only stainless steel is available, please only select this color in the module to finalize your order.

Indeed the volumes are low on these connections, manufacturers do not offer them colored version.